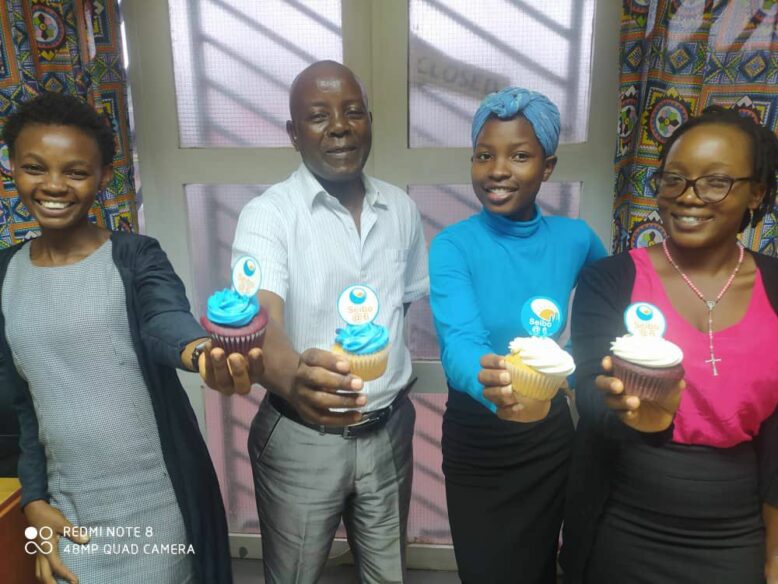 Team Seibo in Malawi celebrated 6 years of school feeding on Friday 11th of February on the feast of Our Lady of Lourdes. Having recently had to contend with the damage in the aftermath of Cyclone Ana, in many ways Seibo's 6th anniversary marked a highpoint in the sense that after the pandemic & weather-related challenges the team finally got back to their regular work routine. What follows is a quick look at how the team spent the day!
In the morning Herbert, Seibo's designated driver, paid a visit to the Seibo stores in nearby Mitsidi to carry out renovations on the floor. The stores are where we keep plastic chairs and any other donated items that are then distributed to Seibo partner nurseries & CBCC's.
Meanwhile we had a visit to our office, located on the Chilomoni High Street, from Innocentia of Stephanos Foundation. She collected 1,670 kgs of foodstuff (phala) to provide school feeding at 9 x learning centres (similar to nurseries). This donation, which came about as a result of an emergency request, and was a fitting way to celebrate 6 years of school feeding- by going beyond our normal network of school partners and forging a better for future for even more kids! Although we currently do provide long-term school feeding to one nursery managed by Stephanos, we are hopeful that as future funding becomes available we can expand to support more.
At that time Mwayi, Seibo's field monitor, was motoring through the market area of Nthukwa distributing firewood to 4 x nurseries in that area. On a better day, she might have delivered to 32 x nurseries in the same day but as is often the case in Malawi the truck experienced issues resulting in delays. Having just come back from monitoring the cooking process at Bizzy Bees nursery, Priscilla, Seibo's programme assistant, spent the rest of her morning working on the training programme for the afternoon's meeting with Nursery Directors.
After lunch, Herbert & Priscilla drove to Chilingani CBCC, about an hour's drive from the office now that many access roads had disappeared due to heavy rains, to meet the Directors & Chairs of rural CBCCs, the school feeding committees and caregivers. Attendance exceeded our expectations with 31 people in attendance and Priscilla used the opportunity to remind all participants as to how to ensure transparency & accountability in their operations. By the end of two hours, the meeting concluded, and everyone reminded others in attendance to ensure we keep standards high together- be that in terms of cooking procedures or stock issues. Some participants questioned whether hand sanitiser would continue to be provided as it was during lockdown, Priscilla shared that it was Seibo's preference to replace sanitisers with hand soap, as it lasts longer, and we reminded those in attendance that 10 x soap tablets, 2 x aprons, 2 x mittens and 5 x face masks would be distributed at the closing of the meeting, to each school.
By the time the team re-convened in the office, Talitha, Seibo's Progamme Manager, was still working on financial documents to provide the auditors, having spent most of her morning at a training session on the theme of 'sexual harassment work policy', which she also hopes to implement with Seibo school feeding partners.
Tapiwa is also collected data for January feeding so she stayed in office,finishing audit work.
In the north part of Malawi, Pilirani distributed school meals just recieved for elementary schools there.
All in all it was a typical busy day at Seibo Malawi but we did promise to take some time the following Monday to mark 6 years of school feeding with a cupcake & our gratitude, To all our donors, supporters everywhere in the world, we say thank you and hope you can share our feeling of joy in making our world a better place to live. Thank you!