Seibo co-host a premiere event featuring Malawian actor Mbene Mwambene
for a one-off performance of Dario Fo's "The Story of a Tiger" set in Malawi
in 2011.
The performance will be in English with Japanese sub-titles and tickets are for sale from the Theater X Homepage (www.theaterx.jp) for 1,000 yen- seating is free arrangement.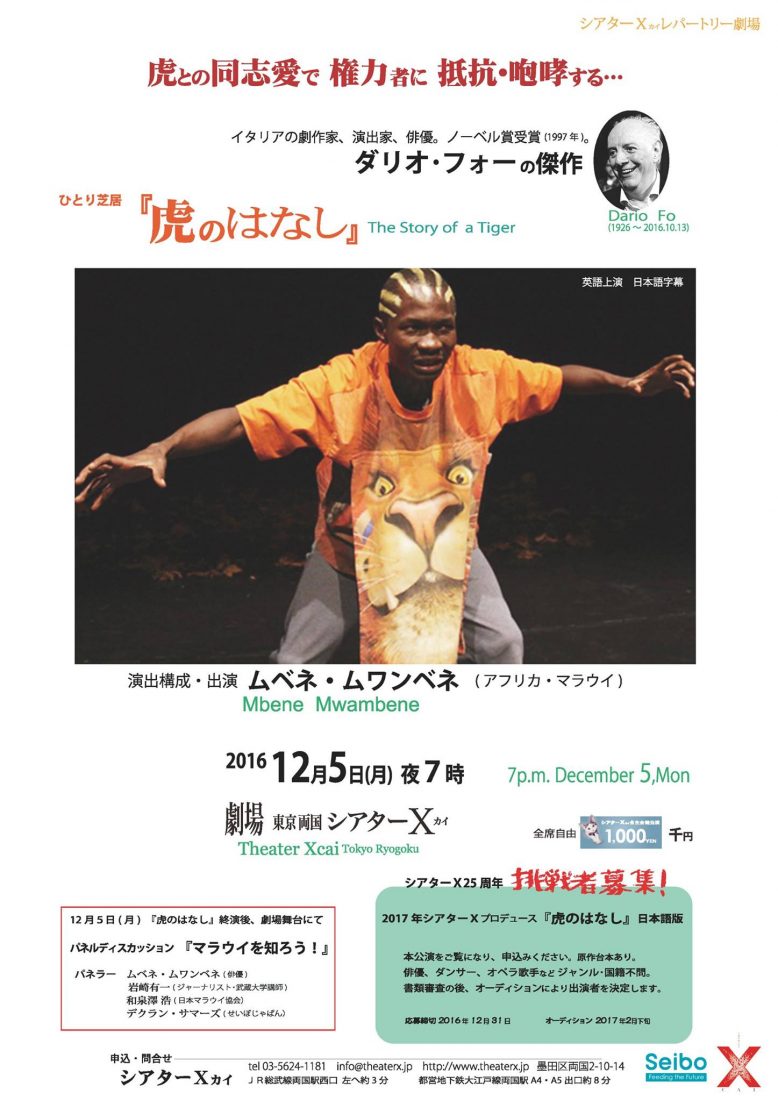 Book early to avoid disappointment!

Event Profile
Event Date
2016.12.5(Mon) ~ 2016.12.5(Mon)
Event Host
Theater X (Cai)
Co-Hosting With:
NPO Seibo
Contents
The Story of a Tiger
The Japanese premiere of a solo theatre performance by Malawian actor Mbene Mwambene will take place at Theatre X, Ryogoku, Tokyo on Monday, 5th of December.
This is the first time in Tokyo Theatre X's 25- year history to present an African theatre practitioner and Theater X have used this opportunity to provide Seibo- a Japanese registered NGO who support school feeding programmes in Malawi- to allow the audience to find out more about Malawi and their activities after the live performance.
The "Story of a Tiger" was originally written in 1975 by Italian actor-playwright Dario Fo after a visit to China.
The actor Mwambene re-contextualises this solo theatre peformance to modern-day Malawi, telling a tale of courage and strength in the face of adversity. The performance in English will have Japanese sub-titling and the after performance discussion will take place in Japanese.
Tickets on sale from Theater X website for 1,000 yen each (500 yen for High school students)- Free seating.
Performance begins at 7pm – doors open 30 mins before.
Ticket Booking Website:
http://www.theaterx.jp/ticket.shtml
The Post-Performance Discussion will see members of the audience asking questions to the actor and the following panelists will take any questions relating to Malawi;
Declan Somers- Director, Seibo Japan
Iwasaki Yuichi- Journalist/Lecturer at Musashi University
Izumisawa Hiroshi- Japan-Malawi Association
Fee
1000 yen- Free Seating Arrangement
Location
Theater X, Ryogoku, Sumida-ku, Tokyo