Seibo has had a wonderful response so far to our "Help Tawina" campaign which started in September. It's been a wonderful journey with so many people making donations to support the 100-child Tawina nursery to ensure not only a new well for water but also to ensure a much improved learning environment.
Having reached our initial fundraising targets to build a well and complete necessary building works at Tawina we are now hoping to send whatever extra we can to ensure the environment is created for ongoing school feeding at Tawina nursery.
Work in Malawi is already under-way in Malawi in partnership with US NGO "Water Wells for Africa" and we hope to post further updates in the coming days and weeks.

Our final push takes place this weekend on the stage! A Malawian actor, born and raised in Chilomoni (24 kms from Tawina!) will arrive in Japan this week to perform a 3-day series of an Italian playwright's "Story of a Tiger" at Theater X, Ryogoku, Tokyo. Click here for Theater X Official Website Link
The shows which will each feature a Japanese performer performing the same play in Japanese before Mbene takes to the stage and performs in English are sure to be entertaining and with tickets for all 3 x shows priced at 1,000 yen it is also a great deal.
The performance itself is based on Nobel Prize-Winner Dario Fo's "Story of a Tiger"- originally based on the 1989 Tiananmen Square Protests- but interpreted through a Malawian lens.
Of course our hope is that people will not only come to support what is a unique visit- a Malawian actor in Japan performing an Italian play- but will also lend more support to Seibo's "Help Tawina" campaign
Seibo will be selling 100 gm packs of Malawian coffee for donations and all donations received will be used to fund the life-changing works taking place in Malawi this month which need all the support we can give.
See: Facebook Event Page for Story of the Tiger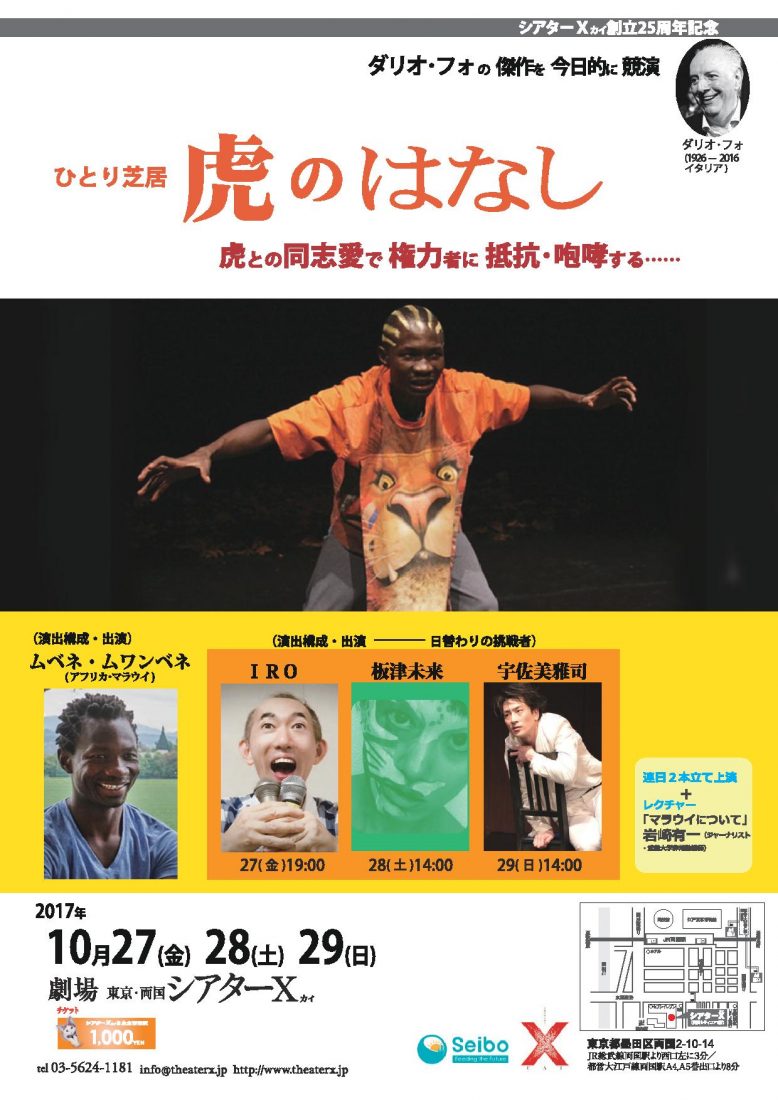 It's going to be an exciting weekend and we look forward to your ongoing support.