Seibo officially launched its school feeding programme on February 11th, 2016. Below is a report of the launch day in the township of Chilomoni, Malawi.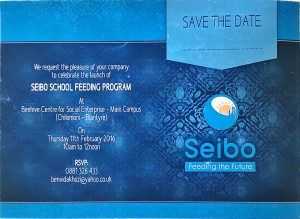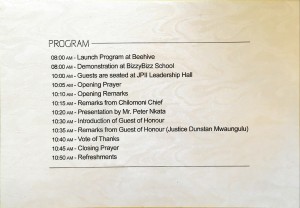 At 10am the staff of the Mother Teresa Children's Centre and Beehive held a Porridge Cooking demonstration at the Bizzy Bees nursery, attended by nursery school staff and owners, to welcome Seibo to the community. The nursery children sang a prayer of thanks while reporters, photographers and guests lined up to see the demonstration in action.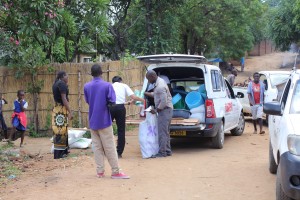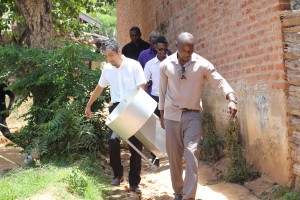 Once the porridge was prepared the children lined up to wash their hands.Then they returned to their classrooms and waited patiently to be served. The porridge was poured into plastic bowls and nursery staff each collected a bowl and passed it down the line to the children inside the classroom. The children filled their stomachs. Even the watching team got to taste the meal on this day. Everyone approved.
Patricio, a staff member of the Children's Centre, who was responsible for ensuring the partnerships between Seibo and the local nurseries said "So far it has gone very well at Bizzy Bees nursery. It can only get better. The nurseries are very excited and so are we. " Following the demonstration everyone was transported to the Beehive campus where the "Welcome Seibo" function was held. Here inside the "Leadership Room" Peter Nkata, Managing Director of the Beehive and Seibo Malawi and the Guest of Honour, Chief Justice Dunstan Mwaungulu cut a ribbon to announce the beginning of feeding which was followed by a loud roar of approval by the assembled guests.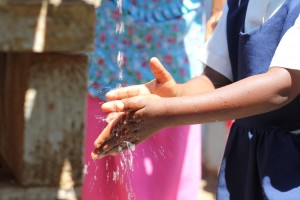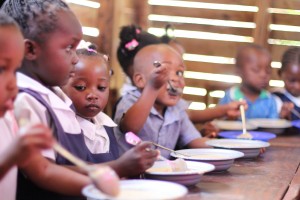 The Chief of Chilomoni spoke saying "Thank you very much to Seibo for the feeding of phala (porridge) in Chilomoni. Orange squash and biscuits are usually what the children have at school every day. That is not good. It's better with phala." Everyone was elated and filed away for refreshments taking the first step to feeding every hungry child- the first step was to feed the children of Chilomoni.