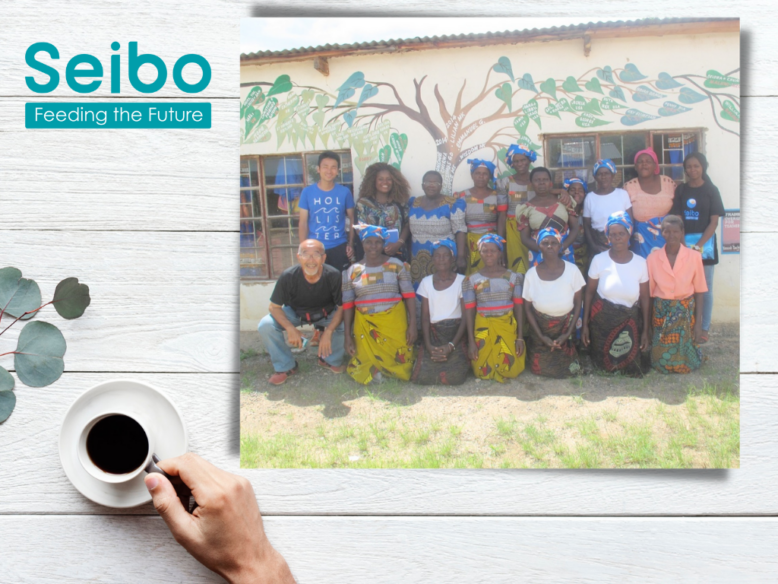 Malawi in 2021
Malawi in 2021 was severely affected by the pandemic with lockdown restrictions wreaking havoc with the economy. Thankfully daily COVID-19 positive cases remain relatively low. For the majority of Malawians rising fuel & food prices were also a source of distress. In October alone the price of petrol rose by 27%* (Source: MERA), and in November it is estimated cost of food increased by over 12% compared to the previous year (Source: National Statistical Office of Malawi). Our colleagues at Seibo Malawi reported throughout 2021 that families with small children often struggled to provide more than one meal a day.
Spoiler Alert: For a deeper dive into Seibo's 2021 activities we've attached a PDF report at the very end!
School Closures in 2021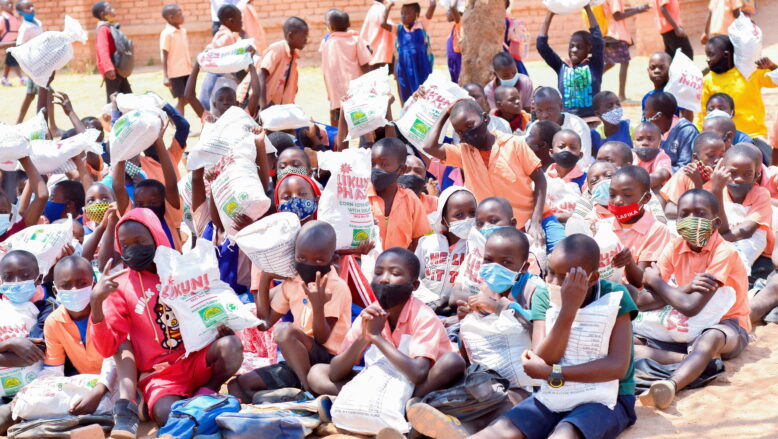 Schools that were closed since March 2020 opened again in January 2021 but were ordered to close two weeks later. A combination of rising COVID-19 cases and staff demonstrations meant that schools didn't open their doors again until March. By that time, almost 8 million young Malawians had not attended school for seven months or longer. In shocking research carried out by The Center of Global Development, 4.3% of Malawian students dropped out of education completely during the period of February 2020 to March 2021. The result of school closures has meant that for Malawi, a country with high dropout rates before the pandemic, the situation has become even worse.
For Seibo even when schools re-opened in Malawi, school feeding on-site was still prohibited. The ban on preparing school meals was lifted for two weeks in early 2021, but once schools closed that was that. Seibo once again provided food as take-home rations. With schools closed some students from poor families were given radios and encouraged to listen to educational radio programmes. The consensus in Malawi was, however, that despite these efforts school closures were a massive setback for the youth of Malawi.
In this article published in the Malawian Times newspaper students lamented that not having a radio further disadvantaged them relative to their peers, and most students were too busy helping at home to listen. Other students pointed to increasing cases of child marriage and rising teenage pregnancies as the cost of lockdown. The consequences of school closures have been devastating on the youth of Malawi, while the longer term consequences on children's well-being is not fully known.
In the words of Audrey Hepburn (a school feeding recipient during World War 2), "A quality education has the power to transform societies in a single generation, provide children with the protection they need from the hazards of poverty, labour exploitation and disease, and give them the knowledge, skills, and confidence to reach their full potential". At Seibo we believe the promise of a hot meal at school carries more benefits than simply nutrition- it also encourages education and takes the burden off many families barely getting by.
Seibo in 2021
Malawi- First Semester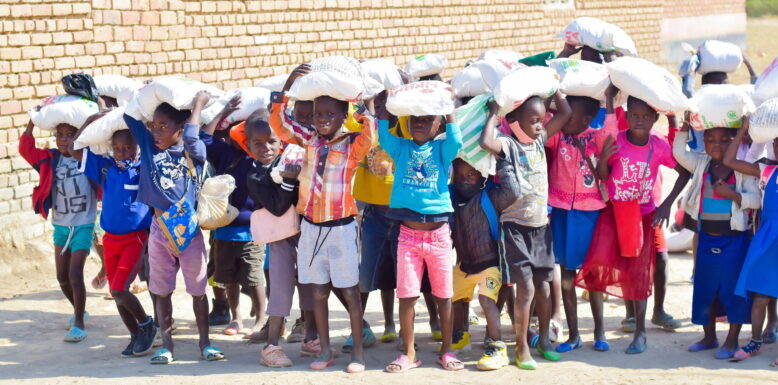 We began the year with great hope. Our colleagues in Malawi ensured food was in place at all our partner primary schools in Northern Malawi for the start of semester. The Monday of January 4th was a day of celebration as a hot meal had not been served since March the previous year. Sadly two weeks later, notice was given for schools to immediately close; initially for three weeks, then for an additional two weeks, and so on until March. With a heavy heart our team once again made the transition from a meal at school to delivering take-home rations to all registered students. With the help of the Malawi Red Cross and a small army of volunteers the first of many food distributions took place in January.
The packs of food we distributed contained enough food (5kgs) to cover a student's daily meal for one full semester. As our first food distribution coincided with what is known as the 'lean season' in Malawi, when traditionally food is scarce, in reality the food was often only lasting two weeks. In January we handed out 70,000 kgs of foodstuff to 11,974 primary school children, 129 volunteers, provided emergency food to the Malawi Red Cross as well as the children's ward of Mzimba Hospital. We hadn't planned for any of this but were greatly humbled by timely donations from Bulgaria & Japan in response to our emergency appeal, we remain grateful.
Meanwhile in Southern Malawi, our nursery school partners re-opened on the 22nd of February. Over 1,000 children began nursery, many for the first time, with a hot meal for breakfast. 39 of these children started school as 'Seibo Kids', a Seibo programme that financially supports nursery places for children of the poorest families. Of course providing a school meal at school is what Seibo do well. Unfortunately however we faced new challenges. With nurseries having been closed for most of 2020 many of the buildings were in a poor state of repair and volunteer caregivers had long since moved on. With many young children having missed out on a nursery education in 2020, parents were even more eager than ever to send their children to school for the first time, and enrolment figures were extremely high. To assist our nursery partners we ran a Caregiver competition to reward best practice and to motivate volunteers to stay or sign-up so nurseries could function. For our rural nursery partners, whose staff had no experience or childcare qualifications, we organised Childcare training which began in April. Once again we were assisted with emergency funding from overseas without which none of this would have been possible.
Malawi- Second Semester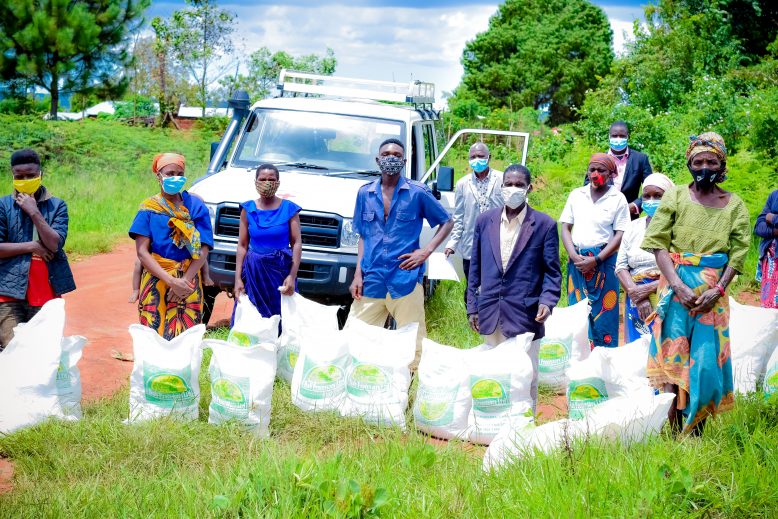 May 24th was another key date in 2021 as primary schools reopened for the second semester and the children of Malawi once again looked forward to returning to normal. We, in turn, looked forward and prepared to serve a school meal again. Meanwhile another 22 nursery-age children were enrolled as Seibo Kids, bringing the total number of Seibo Kids, many attending nursery for the first time to 80!
In May we also received an update from our team in Malawi on Makapwa nursery. The nursery, which has been in partnership with Seibo since 2016, exists in an isolated, rural valley. Having made a visit to offer 'refresher training', our team reported the community's nursery was practically unusable. We decided to ask our donors for help in July. By October, construction had begun on a new nursery & toilet block and although we were still short of funds at that point we were confident of our campaign succeeding. By December we were receiving visible proof of how donations in Japan and elsewhere can be transformed into life-changing solutions in Malawi.

Back in Japan our spirits were lifted by the support from our High School partners, who organised Malawi coffee sales to raise donation. One of our partners, the Yokohama-based Salesio Gakuin high school, had their efforts acknowledged and duly won an award for their community efforts. In fact, by the end of 2021 this school alone, and there were others, would account for over 1 million yen in donations to Seibo, donations that were used to change lives in Malawi. It's true what they say, together we can make a difference!
Malawi- Third Semester


The third school semester began in Malawi in September. Once again Seibo could only distribute food in the form of take-home rations. And cnce again, with the help of the Malawi Red Cross, we distributed over 60,000kgs of food to families of 11,893 primary school students! A great success if you consider that information of the event was only shared by word of mouth- this article introduces some of the many students who attended the event.
In December our team in Malawi received official notification that school feeding at primary schools could resume again, as long as strict guidelines were adhered to. Grateful for the opportunity to once again cook a meal at school our team travelled to Northern Malawi to deliver training to partner schools, in preparation for the year ahead. The difference between serving a hot meal at school or not, can often be the difference between attending school or not. Like most people of on our planet we look forward to a new year full of hope. As ever, we are both grateful and humbled by the love and kindness you have shown for the children of Malawi. May God bless you all!
2021 Activity Report- Thank You For Supporting Seibo
2021-Seibo-Impact-Report