Warm Hearts Coffee
Japan is one of the largest consumers of coffee in the world. Japanese people readily recognise African coffee by its origin country- examples include Ethiopian, Kenyan or Tanzanian. On the other hand while Malawi grows some excellent coffee it still does not have the market presence required to make it a "stand alone" brand having only been introduced to the Japanese market in the last 10 years.
Seibo can provide you with a true Malawian experience- a coffee to warm the heart- and with profits generated from sales of 100gm coffee-packs for 1,000 yen (postage included) – together we can feed hungry children in Malawi. Malawian coffee-not only the smart choice, the right choice.
To place your order make a donation of 1,000 yen and write your Postal
Address in the Comment box or send by e-mail to; info@seibojapan.or.jp
Donation Link- Pay by Credit Card!
SPRING OFFER: For every 100 gm pack of coffee ordered we will send you a complimentary pack of Sugar Cane- an ideal deal sweetener- from Tanegashima, Japan also! While stocks last.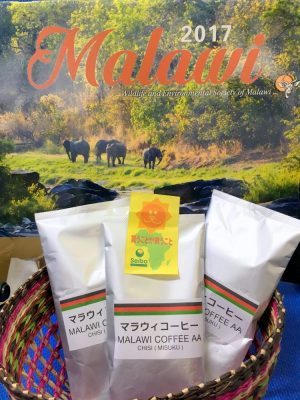 2017 Malawi Wildlife Calendars- LIMITED STOCKS
Seibo have a limited stock of wonderful Wildlife Society Calendars *www.wildlifemalawi.org available for a donation of 3,000 yen *postage inclusive.
The fabulous photos include the cover image of 500 or more elephants – in the biggest translocation ever supervised by African Parks moving from Liwonde and Majete to a newly-created sanctuary within Nkhotakota.
Donations in FULL will be used to provide school feeding in Malawi.
Order now by e-mailing your name/ address to info@seibojapan.or.jp