Thanks a Million Charity Concert 2017
Sunday 19th March, 2017
Location: What The Dickens, Ebisu (http://www.whatthedickens.jp/)
6pm~
Event Info: On the 18th & 19th of March, Tokyo turns green for the St. Patrick's DAY Celebrations in Omotesando/Yoyogi area. On the 20th of March Tokyo then celebrates International Happiness DAY- but what about the NIGHT?
On the 19th of March Seibo will host a fun night of music and fun – and in the process bring happiness to children in Malawi through the provision of school meals!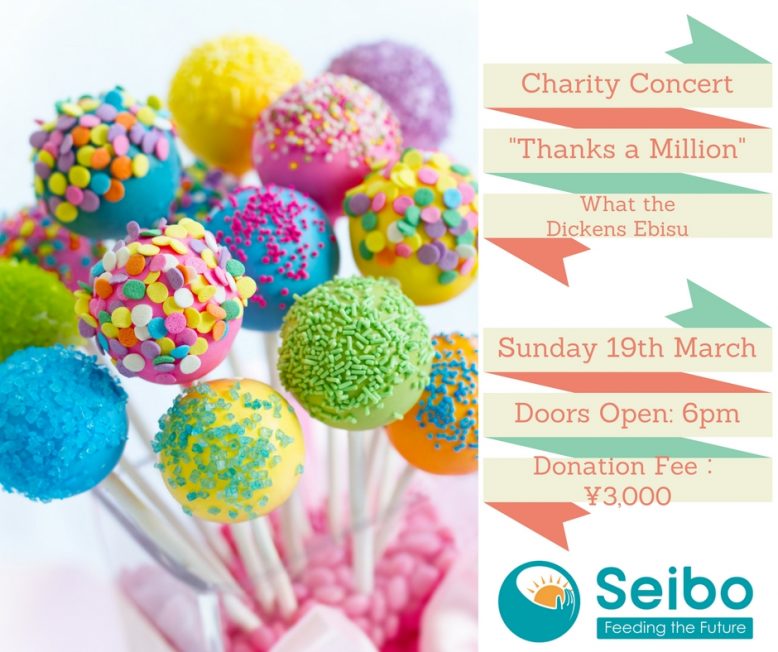 About St. Patrick's Day:
St. Patrick's Day is a global event with Irish roots traditionally celebrated on the 17th of March annually.
About Happiness:
International Happiness Day is a U.N specified day which aims to bring happiness to all people around the world
Why Malawi?
In 2010 Malawi was voted Africa's happiest country. In 2015 Malawi suffered from floods and drought and in 2016 one-third of the population were facing hunger. By providing school meals and by helping those in need we can truly share the meaning
of happiness.
If you have interest in performing or participating or in sponsoring a prize for our charity raffle draw please get in contact: info@seibojapan.or.jp
A donation of 3,000 yen – the cost of feeding one child school meals in Malawi for one year- is requested and pre-payments can be made at the below link and payment made by credit card.
Payment Link: *Visa/Mastercard ONLY
Please don't forget to mention that you wish to take part in the Charity Concert.
Thank you!