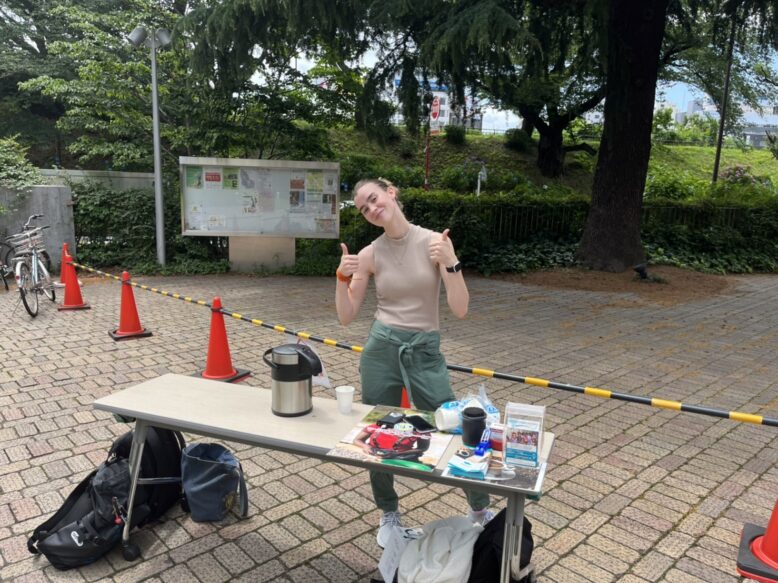 On Sunday, June 4th, 2023, Seibo Japan introduced Seibo to members of the St. Ignatius Church. Upon leaving the Sunday service, members of Seibo Japan offered free, hot coffee to any who were interested. The event overall was successful in giving out coffee to over a dozen guests and spreading the word regarding Seibo Japan and its mission.
The church Seibo Japan distributed coffee outside of, St. Ignatius Church, is an extremely popular international church in the surrounding Yotsuya area. With the building itself having completed construction in 1999, it was dedicated to Saint Ignatius of Loyola (a founder of the Jesuits). While mass is held in Japanese, there are services dedicated to English, Indonesian, Portuguese, Spanish, Vietnamese, and finally Polish at different times and dates of the month. Operating just inside Sophia University grounds, the church is a common meeting place for the Christian community in the area.
Outside of the church, Seibo Japan was able to generously accept the donations from some of the guests in attendance. With Seibo acting as strictly a distributor and not a benefactor, 100% of these donations are able to be given directly back to the communities in Malawi who made the coffee offered at this event. Through events like these, Seibo Japan is fortunate enough to serve as the bridge between locals in Japan and Malawi.