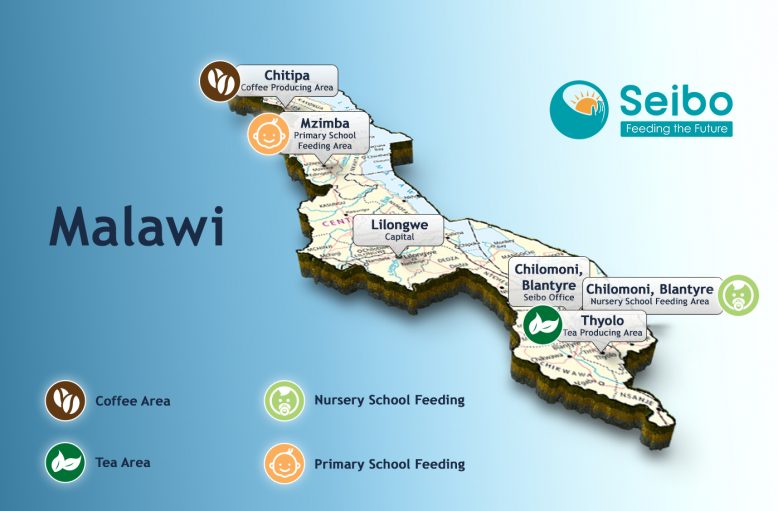 The above map outlines the regions in Malawi where Seibo are active. The below article helps you understand where we provide school feeding & which regions we work with!
Seibo Office
Seibo Malawi, our local partners, are headquartered in Chilomoni village on the suburbs of Blantyre in the Southern region. From the office the staff have relatively easy access to the Seibo network of nurseries where vital school feeding takes place. To read the latest activity report on school feeding click here!
Nursery School Feeding
Since the 11th of February 2016, Seibo have been providing school feeding to the most vulnerable kids in the area around Chilomoni, Blantyre.

Tea Producing Area
As the 16th largest producer of tea in the world Malawi has a reputation for quality specialty teas. We use proceeds raised from our non-profit tea company to help support our school feeding activities in Malawi. For more details click here!

Primary School Feeding Area
Seibo have been actively feeding at local primary schools in the Kaphuta zone, Mzimba in Northern Malawi since April 2016. With schools ranging from 400 to 3,000 students the need to supply consistent support is invaluable to the students education.
Coffee Producing Area
The mountainous region north of Chitipa is home to the Misuku Coffee Cooperative Society and an almost unknown part of our planet. We hope it remains that way as it produces exceptional coffee grown in organic conditions & fairly traded. To try some click here!