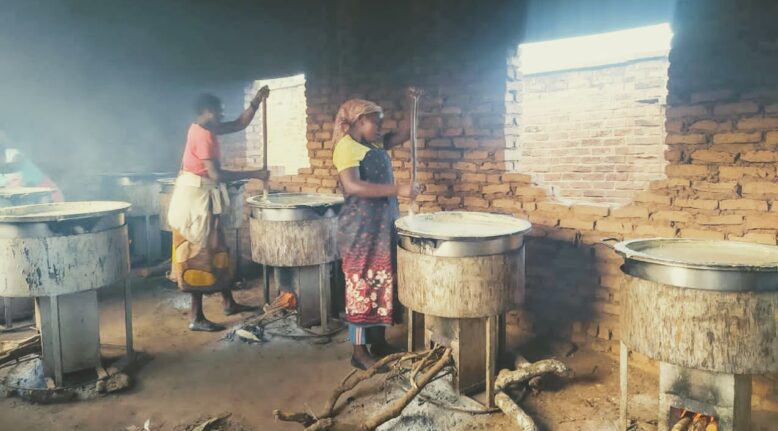 Seibo Partner PRIMARY Schools
Seibo-partner Primary Schools in Mzimba (Northern Malawi) began the second school term on 28th March. Team Seibo ensured food supplies were delivered on time for the 2 x feeding days of March (30th & 31st) and all of April (1st to 26th).
Seibo Partner NURSERY Schools
Seibo-partner Nursery schools, primarily located in the Chilomoni area in Southern Malawi, took a 2-week break with most re-opening on 28th March for the second school term. To meet school feeding needs in March, Team Seibo ordered 1,000 kgs of flour (phala) on the 24th February, as we already had 1,210 kgs in stock.
SEIBO Store Room Incident Report
On the 25th February, Team Seibo in Malawi discovered that water (from the heavy rains of Cyclone Ana) had entered our stock room and the flour lying on the floor showed signs of water damage. Despite taking steps to flood-proof our store room, it transpired the water had entered from the adjacent shop building, not related to Seibo. In total, we estimated that of the 1,210 kgs in the store room only 335 kgs was suitable for consumption and the remaining 875 kgs was no longer fit for purpose. As a result of this incident, we have taken further steps to flood-proof the adjacent wall.
We also made the decision to distribute the 335 kgs from our store rooms for immediate usage to partner nurseries. Finally, we learned that the 1,000 kgs flour order due to be collected was not going to be ready until the 4th of March. Due to this delay, the flour (phala) was eventually distributed on the 7th & 8th of March. Some schools therefore received less than required. In the end we distributed 1,445 kgs of flour instead of a budgeted 1,790 kgs.
Summary of Enrolment/Meals Served (March)


Seibo Partner PRIMARY Schools (Food Delivery)
On the 28th of February, Team Seibo in Malawi sent a food truck to Mzimba to coincide with the beginning of the 2nd school term. The long journey from Blantyre, coupled with bad weather, meant that the flour did not arrive until the 29th March. On that day, 4 of the 12 Seibo partner Primary Schools received their food allowance, namely; Kazengo, Mzimba LEA, St. Paul's & Davy. On the 30th March we managed to deliver food to a further 5; Kaphuta, Kazomba, Chamnugulube, Kabuku & Matewu. Finally on the 31st March the food was delivered to Machereta, Kanyerere & Chabere.


Seibo Partner NURSERY Schools (Food Delivery)
For nursery schools in the Chilomoni area for March experienced delays due to the supplier having transport issues. Eventually Team Seibo, using the Seibo car, collected the food in 3 trips on the 4th, 5th and 7th of April respectively. The flour (phala) distribution for March/April was as follows:
•5th April 2022- Kachimera, Makapwa, Chilingani, Mlambe, Chisomo & Tikondane
•6th April 2022- Mwayi, Tilitonse, Tiyamike, Abundant Life, Tikwere, Watipa, Yankho, Miracle, Nzeru, Sulema, Fatihu Deen, Freedom, Tivwirane, Makwika, Cross Life, Holy Cross and Bachi.
•7th April 2022- Tawina, Atamandike 1, Atamandike 2, Bizzy Beez, Faeza, Gamajiu, Pillar of Light, Kriver, Little Bee, Asira, Future Leaders, All Saints, Tinashe, St Theresa and Agape.


Summary of Enrolment/Meals Served (April)