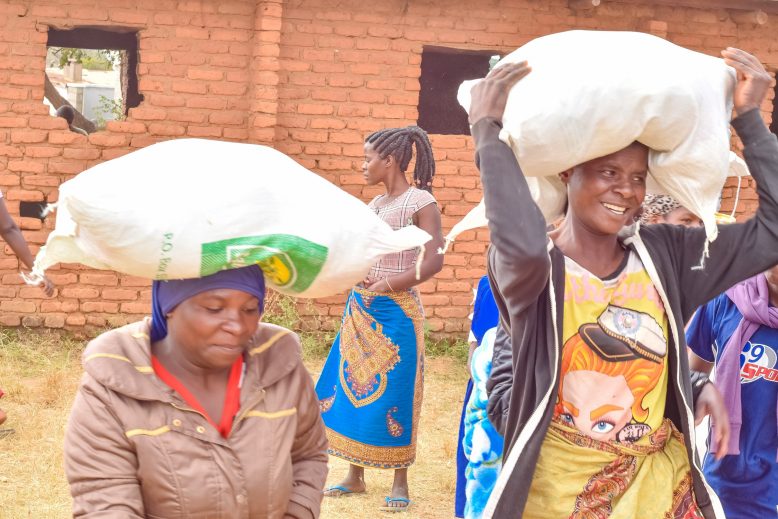 Schools in Malawi closed in March and despite initial plans to re-open in mid-July an increase in cases of COVID-19 has made this unlikely. In light of these circumstances our dedicated staff in Malawi have continued to expand on home-feeding to the most vulnerable. In June our team distributed 5 x kg food bags to parents of primary school children in Northern Malawi and in southern Malawi's rural nurseries (CBCC's) we began a 7-day week breakfast serving to ensure children don't go without a daily meal during lockdown.
UPDATE: In July we switched back to providing food packs for preparation at home to families of children attending rural CBCC nurseries. This decision was made for safety reasons as some parents had asked their older children to collect cooked porridge for their younger siblings and it was deemed unsafe to continue cooking a meal on site.
Emergency Food Pack Appeal
A donation of 3,000 yen will help purchase an emergency food pack for 1 x family with children in Malawi. We have already with the help of local communities identified the most vulnerable children and hope to be able to provide these most needy families with assistance.
Each pack will include:
-25kg fortified maize flour
-2kg sugar
-2kg beans
-500 gm salt
-100 gm tea
-1kg soya pieces
-6 bars of washing soap
-2 litres cooking oil
-4 bars bath soap
-2 x bottles of waterguard (to purify drinking water)
-Vaseline bodycare
We have already begun to distribute food packs to some families but there are many more in immediate need of support and our partners Seibo in Malawi have asked us to ask for help. Donate HERE!