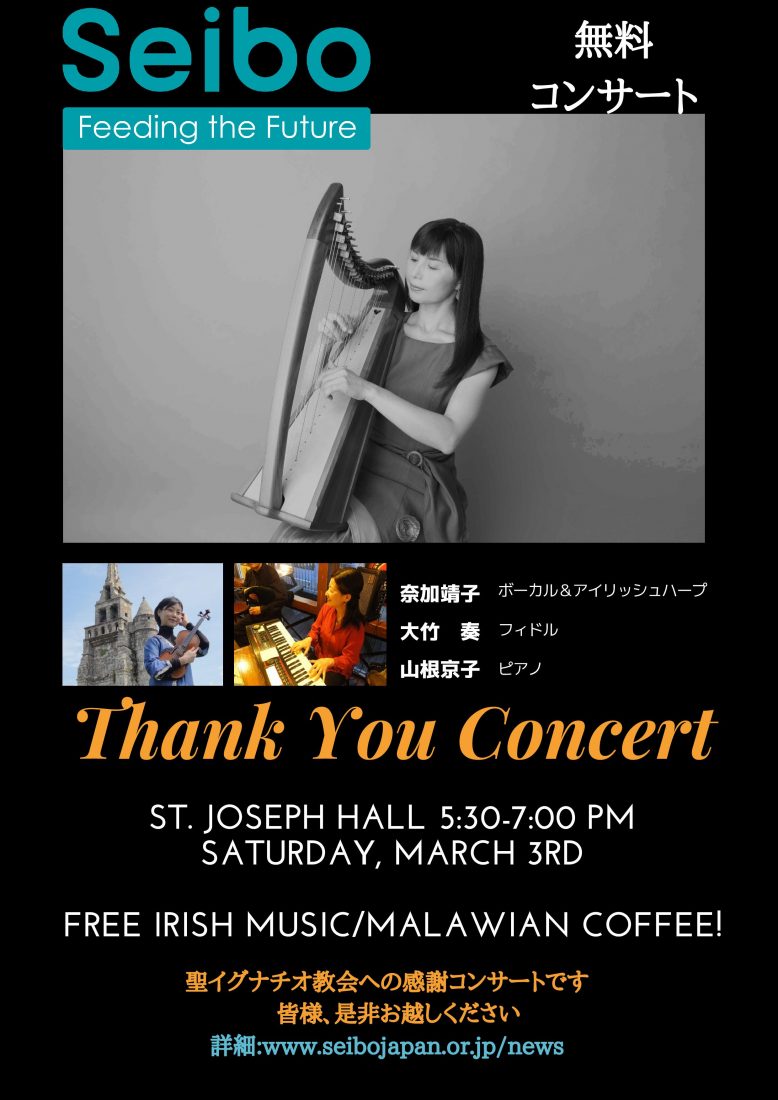 A Thank You For Supporting Seibo Concert
Seibo are hosting a free concert in thanks for the great support & kindness
we have received from the Parish & Parishioners of St. Ignatius Church, Tokyo. With the kind co-operation of Irish traditional musicians Seibo invite you to an Irish evening performance to be held at St. Joseph Hall.
Why Irish Traditional Music?
March is the month in which Ireland's national saint St. Patrick is celebrated globally. In line with these celebrations we have organised an Irish-themed evening with an African twist!
THE PERFORMERS
・Yasuko Naka Vocals & Irish Harp
Although smitten with Irish music from a young age, Yasuko has
been playing Irish music in earnest since 1998.
Having spent some time in Ireland studying the traditional
singing techniques she now accompanies her song with the Irish harp.
Expect to hear songs in both the English & Irish languages.
・Kyoko Yamane Piano
Kyoko also participates in the chorus and provides
harmony for songs. She is responsible for the Snare Drum
wing of the Tokyo Pipe Band and has appeared in the New
York & Czech Republic St. Patrick's Day Parades.
Kanade Otake Fiddle(Violin)
Started playing the fiddle at the age of 8.
As well as being an accomplished classical violinist
Kanade has also performed at Celtic Festivals across Europe
picking up local styles of play along her journey.
Since then she has continued playing the fiddle in the Celtic
style and is researching Scottish dance music from her base in Tokyo.
Complimentary Malawian Coffee
To help get you in the mood for a lively concert Seibo
are providing complimentary cups of freshly roasted
Malawian Coffee. Grown in the beautiful nature of
Northern Malawi this is a perfect partner to help you enjoy the concert.
All Are Welcome!
Entrance is free and all are welcome.
Open to parishioners & non-parishioners alike.
The more the merrier!

Event Profile
Co-Hosting With:
Yasuko Naka (Harp) ,Kyoko Yamane (Piano) , Otake Kanade (Violin)
Contents
・Irish Traditional Music Performance
・Music Cultural Exchange
・A Report on Malawi
・Complimentary Malawian Coffee Tasting
Fee
Free- All are Welcome!
Donation
On the day Seibo staff will also man a desk offering 100gm bags of
freshly roasted coffee (ground or beans) for 1,000 yen- 100% of proceeds go to Malawi for school feeding.
Comments
Performance
5:30- 7:00 pm
It is possible to have a coffee mid-performance!